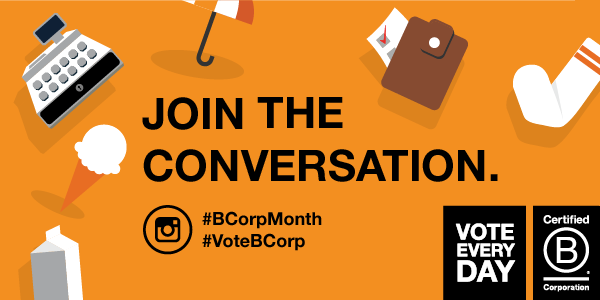 If you care about the people, processes, and the social and environmental impact behind the products you purchase, supporting certified B Corporations is an easy way to put your money behind your values. Certified B Corps must meet the highest standards of social and environmental performance, public transparency, and corporate governance. Unlike fair trade and other sustainability certifications that vouch for a specific aspect of a company's supply chain or production process, the B Corps certification applies to the company as a whole.
Please find below a sample of products by B Corps that make perfect gifts for loved ones or yourself. We hope you use your dollar to #VoteEveryday!
Divine Chocolate
Founded in 1998, Divine Chocolate claims to be the only fair-trade chocolate company co-owned by cocoa farmers. Kuapa Kokoo, a co-operative of more than 85,000 cocoa farmers in Ghana, receives the largest share (44%) of Divine's distributed profits. Co-ownership gives the farmers more economic stability and increased influence in the cocoa industry.
Frey
Frey is elevating the laundry detergent industry by offering an eco-friendly, concentrated, and scented laundry detergent. The bottle has a pump mechanism that decreases waste from the overfilling that occurs with traditional measuring cups and Frey's formula removes harmful chemicals, fillers, and other waste. Everything about their product is designed with people and planet in mind.
Keap
Keap makes candles with natural ingredients, great scents, and plastic-free packaging. The company uses sustainable coconut wax for a clean and complete burn, and has a long-term goal of achieving a 100% regenerative supply chain for all materials and a zero-waste manufacturing process. A Keap candle is sure to be a keeper.
Klean Kanteen
Klean Kanteen is the perfect gift for the adventurer in your life. As the first company to produce stainless steel, BPA-free, reusable water bottles, they are tackling waste created by single-use plastic. They pride themselves on having not only a sustainable product but also sustainable business practices, such as providing their staff with volunteer time off to support a diverse array of nonprofits in their community of Chico, California.
Public Supply
If you have an aspiring writer or avid note-taker on your gift list, consider giving them a one-of-a-kind, beautiful notebook from Public Supply. This company, a three-time "Best for Community" B Corps honoree, channels 25% of net profits to a unique mission: supporting high-need public classrooms focused on creativity and arts. The beautiful notebook will be something your loved one will treasure.
Bombas
Beyond creating a fantastic sock, with softer yarn and a unique "honeycomb" design that hugs the feet, Bombas has a clear mission. Founded to make an impact on the community after its founders learned that socks are the most frequently requested clothing item in homeless shelters, Bombas donates one item of clothing to homeless shelters across the country for each item sold, so your dollar goes even further when you purchase a pair.
A to Z Wineworks
A to Z Wineworks has been a "Best for the World" B Corps honoree for five years running and its Oregon Pinot Noir has twice been named to the Wine Spectator's Top 100 wines of the year. When you purchase a bottle of this award-winning vino, you support a company that prioritizes environmentally sustainable growing practices and pays 100% of workers above the local living wage.